From Monday 12 April 2021 Shambles Market will reopen for all traders including sellers of non-essential goods and popular food and drink vendors at the Shambles Market Food Court. As part of the government's second step in the coronavirus roadmap out of lockdown announced on 30 March, the open-air city centre markets can reopen to offer non-essential shopping.
Shambles Market, located in the heart of the city, has served as an essential local shopping spot to York residents for decades, with traders offering a wide range of products from fresh produce, fruit and veg, to handmade arts and crafts, clothing and various repair services. In the recently held digital #LoveYork Awards, organised by Make It York, Shambles Market was awarded Gold as the public's 'Favourite Independent Shopping Experience' in the city, while the market's Food Court received a Gold medal for the 'Favourite Lockdown Foodie Experience' – proving popular among York residents with a wide variety of dishes and cuisines on offer as well as its quality.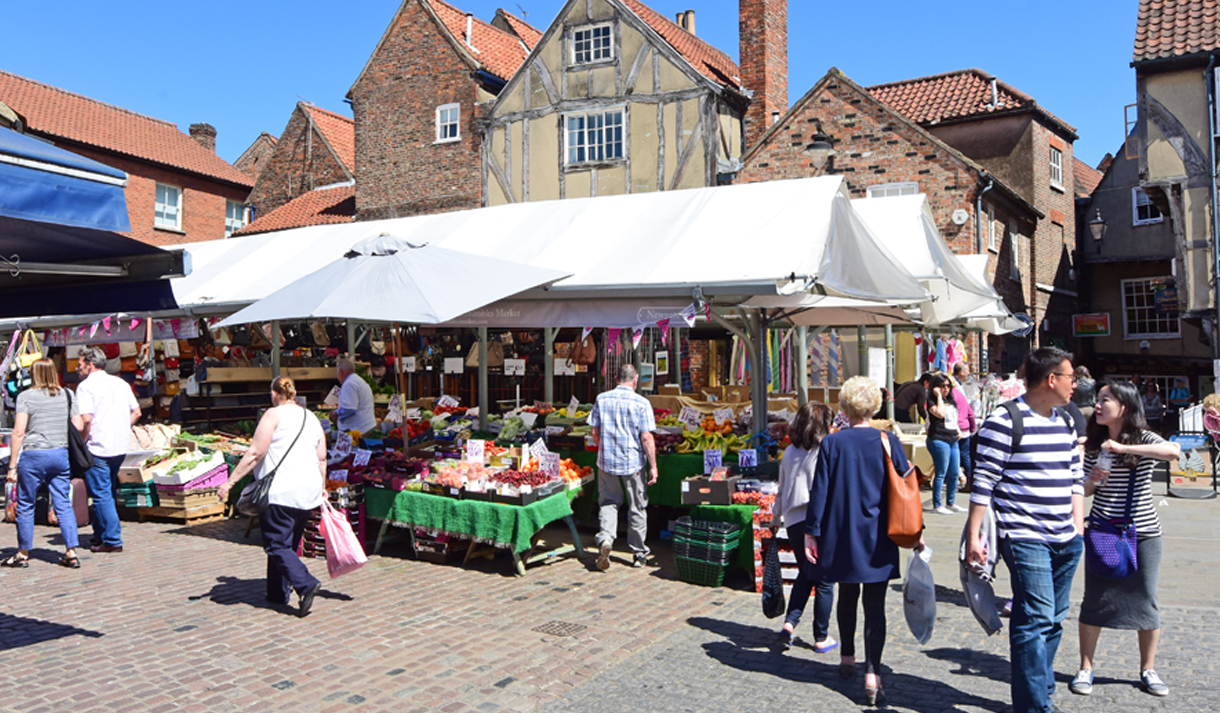 A new trader queue management standard will be implemented across Shambles Market, to ensure the safety of both visitors and market traders. The standard, put together by the health & safety team with input from the traders, adhered to the government's regulations and will provide a guideline to each market trader on the best and safest way to manage queues around their stall and improve the customers flow through the market.
Ashley Young, Senior Marketing Manager at Make It York, said: 
"Shambles Market is a hugely important part of York's city centre and we are delighted that we are in a position to be able to work towards fully re-opening the space. With safety being our upmost priority, we have continued to implement appropriate measures to ensure it is a safe place for both our traders and visitors to the market. Shambles Market and Food Court are an integral part of York's city centre identity and we are looking forward to be able to once again animate the space and bring all our amazing traders back." 
Kevin Tuohy, the Chair of York Market Traders Forum and owner of Bags of Style, said: 
"The market traders are looking forward to getting back to their familiar routine. We have missed our colleagues and customers so much and it will be refreshing to get back to continue to trade safely and with the undoubted enjoyment this will bring." 
Shambles Market represents many of York's and Yorkshire's local independent businesses, who need the support of York residents post-lockdown. Meet some of the Shambles Market traders you can help support now:
Mannion's Fruits and Vegetables
From as far back as 1906, the Mannion family have held stalls on York's city centre – and in 1970, John Mannion took over the business from his father, offering a wide range of fresh, locally sourced fruit and vegetables. Now John and his wife Jean are on Shambles Market every Tuesday, Thursday, Friday and Saturday, providing customers with high quality goods and friendly customer service.
John Mannion, talking about the Shambles Market: 
"We've seen a lot of change over the years but my favourite thing about trading on Shambles Market has always been getting to meet so many new people and chatting to our customers. The market also has a really unique blend of traders and an outstanding fresh produce selection. Whilst the pandemic has had a big impact and has been tough, we've continued to provide high quality produce for our customers throughout. I'd like to thank all of our loyal customers for their ongoing support and to continue to encourage local York people to come down to the market to do their shopping and see what there is on offer." 
Selling a unique range of hand drawn cityscape artworks, Staves Art was founded by artist Ben Staves in 2017. Ben designs unique maps of cities across the UK and beyond – including York, London, New York and Paris – portraying the famous streets and landmarks in an unusual 3D globe style. Pre-lockdown, Staves Art was trading on Shambles Market three days a week, now you can purchase some of Ben's artworks from the Visit York e shop.
Ben Staves, talking about the Shambles Market: 
"We started trading on Shambles Market towards the end of 2019 and found it a really wonderful way to promote our products and get out and meet people. The atmosphere on the market is fantastic and it's a great community of traders on there – offering a mix of really cool products and street food and we love being part of it! We have really missed seeing our customers face to face and chatting to them out on the stall – we can't wait to be back when it's safe to reopen again!" 
Find out more at www.stavesart.com or www.instagram.com/stavesart and check out the Visit York e-shop https://shop.visityork.org/
Black Yak is a unique Fair Trade importer, wholesaler and manufacturer, this year celebrating twenty-five years of being in business, and trading on Shambles Market. With a loyal customer base from all over the world, Black Yak sells a range of sustainable clothing and crafts that are handmade in Nepal – from woolly hats, jumpers and gloves through to beautiful summer clothing.
Rupert Harrison of Black Yak, talking about the Shambles Market: 
"Over the last twenty-five years we've seen real changes in Shambles Market and it has been great to see how it has grown in recent years as a major tourist attraction in its own right. The quality and diversity of the traders on the market is fantastic, and I really enjoy being part of that and meeting such a diverse range of people on a daily basis. I'd like to say a huge thank you from the bottom of my heart to our customers who continue to support Black Yak and in turn help the artisan workers in Nepal who make our products." 
Find out more about Black Yak here: https://www.blackyak.co.uk/
Run by brothers Gary and Andrew since 1976, Wigginton Road Nurseries specialises in a wide range of high-quality cut flowers and plants. With a base on Shambles Market for many years, the Wigginton Road Nurseries stall located on Jubbergate has always offered a year-round selection of the very best seasonal flowers and plants. Hand-picked in Holland, the stall offers a fantastic range of fresh flowers, providing customers with some of the more unusual and unique options not available in supermarkets.
Gary, talking about the Shambles Market: 
"We've been on Shambles Market for a long time and seen many changes and improvements in recent years. Being part of the Shambles Market community is great – seeing new traders coming in and developments like the introduction of the Food Court has been really positive and people seem to really love the shopping experience and supporting their local traders. A huge thank you to all our customers past and present for their outstanding support – it really is appreciated, and we look forward to returning to our stall and seeing everyone again!" 
Find out more about Wigginton Road Nurseries here: https://www.instagram.com/wiggintonroadnurseries/?hl=en
Set up in July 2020 by Luke Suff, Cycle Culture is a York-based business providing customers with high quality and reliable bicycle repair and servicing. With a stall on Shambles Market every Friday, Cycle Culture are also on hand to provide a wide range of bicycle parts and accessories, as well as offering basic bike servicing on the stall whilst customers wait.
Luke Suff, talking about the Shambles Market: 
"We started trading on Shambles Market in October last year and we've been made to feel so welcome – both by the other traders and the Make It York team who've been on hand to provide any help and guidance we've needed. There has been a huge surge in cycling recently with people using it as a way to get out and about more and exercise – we've been excited to help people get back out cycling again and enjoy the outdoors. We are really looking forward to continuing to build our business through 2021 and working with customers old and new!" 
Find out more about Cycle Culture here: https://www.cyclecultureyork.com/ and follow their Facebook page for their latest updates and offers: https://www.facebook.com/CycleCultureYork/.
Shambles Market and Food Court are open Monday-Sunday from 9am to 5pm (traders' working days/hours may vary, please check their individual websites and social media channels for more info).
For more information on Shambles Market traders visit www.visityork.org/shamblesmarket and follow the Shambles Market social channels on Facebook, Twitter and Instagram for the latest updates.
ENDS 
---
For further information please contact:
Ana Ignatova – Communications Executive  
Email: ana.ignatova@makeityork.com 
Amy Goodman, Consumer Communications Manager 
Email: amy.goodman@makeityork.com 
Notes to editors:
About Make It York
Make It York's purpose is to develop and promote the city and its surroundings – nationally and internationally – as a vibrant and attractive place to live, visit, study, work and do business. The company's remit covers leisure and business tourism, city centre management, festivals and events, business support and inward investment.
One of Make It York's strategic aims is to promote York as a brilliant place to do business, helping to support business growth and innovation across a range of business sectors, such as financial & professional services, rail and high value manufacturing and to stimulate greater inward investment.